It's the third year running at USA RSA Conference for CounterCraft, and this year we're proud to be representing the UK Government's Department of International Trade as GCHQ alumni, as the business continues to expand its presence in the UK and global market.
The groundbreaking CounterCraft platform aims to revolutionize the lives of threat hunters and analysts the world over, and is the product of continuous and meticulous customer-driven development. The most recent iteration delivers a vastly improved user experience and allows organizations to engage with and control attackers within highly credible synthetic environments.
Included in the latest product release – available to view this week at booth S3342 – is a full integration of the MITRE ATT&CK™ classification schema, providing an at-a-glance view of threat actor behavior within the deception environment. The correlation and integration of the deception environment and the intelligence obtained with MITRE ATT&CK™ affords unprecedented threat hunting and investigation to engage with, influence and analyze attackers' modus operandi.
In recognition of the company's radical and innovative contribution to the deception technology market as well as the wider infosecurity industry, CounterCraft is delighted to collect the Cyber Defense Magazine Next Gen Deception Based Security InfoSec Award 2019 today at RSA Conference. Now in their 7th year, these awards recognize startup, early stage, later stage or public companies for unique or compelling value propositions for information security products or services.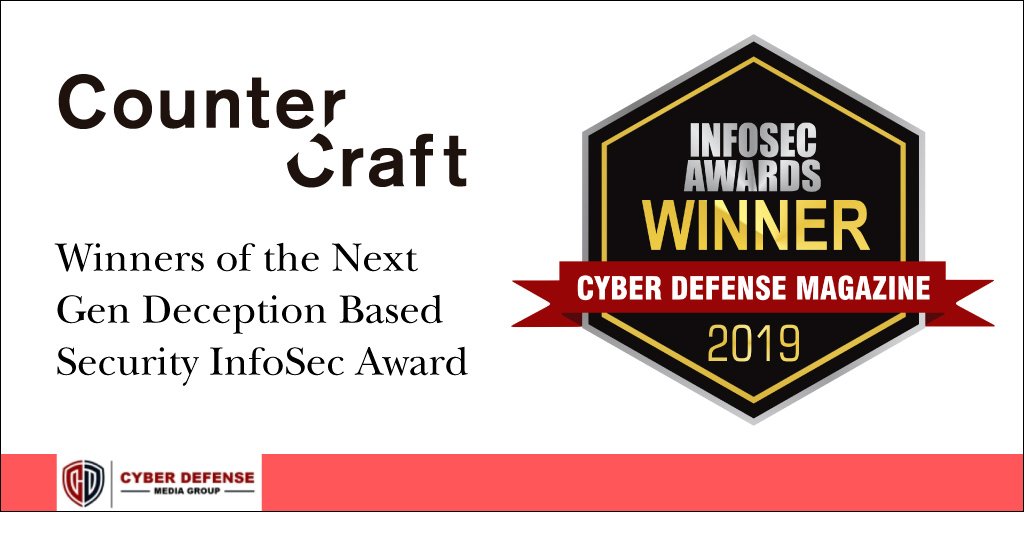 On Monday 4 March we were thrilled to be invited to pitch at leading tech investors, AGC Partners, 2019 Information Security & Broader Technology Growth Conference. This was followed by another fantastic pitch by CEO David who showcased our market-leading cyber deception platform at the "Basque Country: Land of Cyber Opportunities" event on Tuesday. Later that day, we were visited by Basque Government and BCSC (Basque Cyber Security Centre) Representatives, supporters of groundbreaking cybersec startups in Industry 4.0 innovation. We also had amazing visits of clients, partners and investors.

Dan Brett, Chief Strategy Officer, commented: "We love attending RSA Conference San Francisco, and this year marks a particularly important one for us as we demonstrate our progress in the emerging deception market to the global CISO community. Many predict 2019 as the year the CISO will secure their position at board-level, and we're here to support that transformative process in the context of the broader cyber security landscape with the most advanced high-end deception solution currently available to mature organizations."
The team behind this advanced technology eagerly anticipate the opportunity to reconnect with the global cyber security community and demonstrate not only how to use deception in the context of enterprise cyber counterintelligence, but why it has the power to dramatically enhance any organization's cyber defense strategy.

Nahim Fazal, Threat Intelligence Business Area Lead, added: "For us, RSA Conference is much more than the size of our booth. This is a coveted opportunity to mix with friends old and new, and drive thought leadership on enterprise cyber counterintelligence. Cyber threats touch every single industry and business in every corner of the globe, and it's time to up our defenses with something much more powerful than a threat intelligence feed. Since integrating the CounterCraft solution with the MITRE ATT&CK Matrix, not only is the international threat hunting community speaking the same language, customers are gaining insights about their adversaries that it's very difficult to compete with."

Thanks to all who came by our stand and see you at RSA 2020. Next year's booth is already booked!!