RSA Conference 2018 in San Francisco marks a week of milestone achievements for CounterCraft. After intense development and testing, we've unveiled our new Cyber Deception Platform and celebrated our place in the emerging deception technology market with Info Security Product Guide's 2018 Global Excellence Award for Startup of the Year.
Dan Brett, Co-Founder, commented: "This year at RSA is especially exciting because deception has come of age."
Our latest product release includes real-time responses and enables cyber-counterintelligence campaign automation across a complete range of digital assets. UX is equally as important as threat detection analysis in our development roadmap, which is why we've improved the platform user interface with strong visualization designed to facilitate the reporting process and increase the value of the analytics CounterCraft provides. Coupled with an advanced API suite, we're able to deliver an even more powerful cyber counterintelligence solution and build on our contribution, already recognized as radical and groundbreaking, to the European information technology and security markets. Counterintelligence represents a fundamental new component in Enterprise Security Architecture, driven by the need for defenders to adopt Active Cyber Defense to meet the risk management requirements of our highly connected global economy.
We know that not only can organizations benefit from vastly improved insight into their adversaries' mindsets, motivation and modus operandi, they can also make significant cost savings as a result of implementing automated deception campaigns, compared to manual techniques.
Co-Founder, Dan Brett added: "We're seeing companies expanding on the traditional deception use case of lateral movement, and applying deception across the whole of their security posture."
CounterCraft's advanced technology harnesses the innovation exhibited by threat actors and cybercriminals by allowing them to access decoy systems and data in a controlled environment. The potential to proactively learn about attackers' behavior is huge, especially versus traditional threat detection techniques that rely on more reactive measures.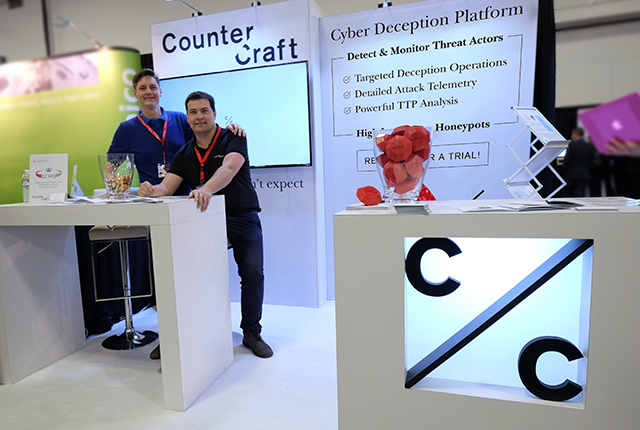 David Barroso, CEO and Founder said: "We're entering the RSA exhibition hall for the second consecutive year this week. Receiving the award for Startup of the Year by such a respected organization serves to validate our place in the deception platform market and reward our efforts to innovate at pace. We were thrilled to collect the award this week at the annual RSA red carpet awards dinner. The whole experience has renewed our energy to execute our international expansion strategy and capitalize on our last successful investment round."
Info Security PG's 2018 Global Excellence Awards recognize cybersecurity and information technology vendors with advanced, ground-breaking products, solutions and services that help set the bar higher for others in all areas of security and technology.
Richard Barrell, Product Manager said: "We are proud to be recognized as an industry player by Info Security Products Guide. The deception platform market is emerging with a huge potential, and this award is a validation of our place in the market."
CounterCraft offers a disruptive, standout solution expertly developed to enhance organizations' defense measures against sophisticated cyber attacks. Its technology is used by companies globally in the financial, trade and government sectors, as well as Law Enforcement Agencies.
Drop by booth N5102 or get in touch to organize a demo, find out more about our product or discuss partnership opportunities and get ahead with CounterCraft.