Who can use cyber deception?
We get this question all the time. Deception technology is gaining recognition as one of the most fail-proof ways to protect against cyber attackers, and one of the only ways to detect insider threats and lateral movement. When we are approached by businesses who are interested, one of their first questions is "Am I mature enough for deception technology?"
We've created a free resource to help answer that very question. Our free e-book "Are You Ready for Deception Technology?" features nine pages of the valuable advice we give to organizations that approach us looking to improve their cybersecurity posture. The ebook also includes a simple quiz that will guide you to next steps.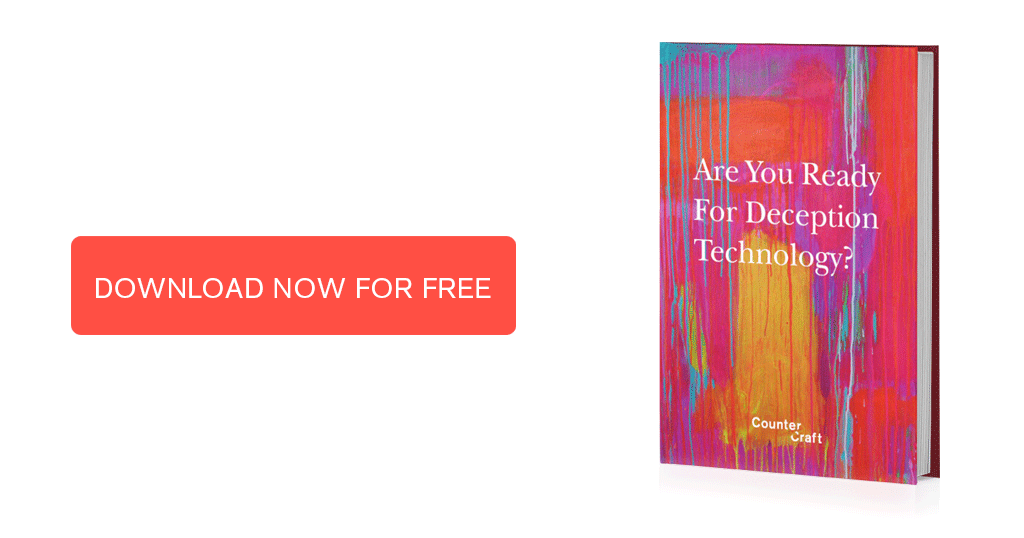 The Three Questions to Determine Your Cyber Maturity
Most businesses and organizations we speak with have misconceptions about who can use deception technology. In this video, we'll talk about the three things you should ask to determine if you are ready for deception technology.
Most organizations' stance on cyber deception stems from the belief that only mature businesses can incorporate deception into their current cybersecurity strategy. This is a common misconception that keeps many organizations from making the most out of a strategic proactive approach against their adversaries.
To find out the three questions you should ask to determine your cyber maturity, download our free resource or watch the video.
It's worth commenting, however, that incorporating cyber deception into your strategy is not just about maturity—it's about wanting to make intelligent business-driven decisions. Active defense is for everyone.

What is Cyber Deception?
At its most basic, deception technology is a cybersecurity defense that detects threats earlier and with more efficacy than most other blanket defenses, such as firewalls. Deception technology works by creating decoys and environments designed to look like the assets that threat actors are searching for, tempting them to take action that will then alert a security team while simultaneously allowing the team to track threat actors actions and learn more about them.
The world's increasingly complex and growing threat landscape is filled with sophisticated cyber adversaries, many focused on cyber crime are finding new ways of accessing corporate information systems and stealing intellectual property and misappropriating money.
Cyber deception is not about hacking back – it is about intelligent active defense in and around your own corporate environment.
Download the e-book "Are You Ready for Deception Technology?" today.
Learn more about cyber deception at Cyber Deception 101, the primer we've written on the subject.