We are thrilled to announce that CounterCraft has been selected to be part of LORCA's Cohort 3, described by LORCA as 'the most international yet'. The final 15 cyber security scaleups were revealed a few days ago, chosen based on this year's search for security by design, basics and beyond in response to industry insights about what the market now needs most.
The London Office of Rapid Security Advancement programme offers one year of bespoke, world-class support to help achieve product-market fit, engineer and iterate cyber security solutions, grow into new markets and scale on a national and global scale. This powerful collaboration is funded by the Department for Digital, Culture, Media and Sport as part of the National Cyber Security Strategy, set up to support the most-promising innovators in cyber security to scale and grow their solutions in response to the most prevalent cyber threats. This opportunity to participate in building the UK's international cyber security profile represents another in a long series of successes for our business, with its roots spread between Spanish and British soil.
CounterCraft is proud to have been selected for our growth potential and recognised as an innovative and new approach that goes beyond current offerings as part of the beyond challenge area. "These solutions should provide proactive, intelligence-led security and shouldn't be constrained by traditional views of risk of security models."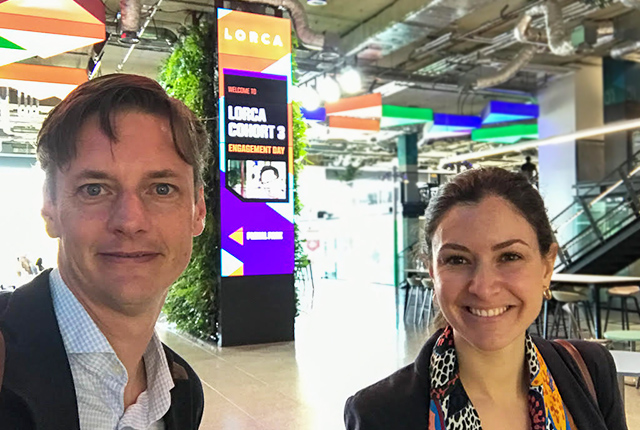 This month we attended the highly-anticipated programme of events to kickstart the first half of the 12 month programme at Plexal, Here East, East London's hub for tech and innovation. It was a totally inspiring experience to meet the other members of this cohort and get to know our new dedicated office space at Plexal, and we look forward to connecting with the alumni at a series of meetups, masterclasses and mentoring events throughout 2019 and 2020.
Founder & CSO of CounterCraft, Dan Brett, said: "We are delighted to represent a core part of LORCA's mission, to forge closer ties with international partners in their efforts to make the UK a global cyber security leader. The launch of the programme comes at a particularly exciting time, too, having just received Highly Commended status in the Best Deception Technology category at SC Awards Europe at infosecurity Europe."
Programme Director of LORCA, Saj Huq, commented specifically on this year's international flavour, which, as he described, will "fortify LORCA's position as a global cyber hub and the UK's foremost destination for the most advanced technological solutions" – read the full press release here.
We anticipate a phenomenal year of growth ahead as we embark on the next stage of our journey and approach our fourth birthday, hand in hand with the driving force that is LORCA. Stay tuned for updates as we progress through the first half of the LORCA's programme and the second half of the year!