Following the new Cyber Deception Platform product release and a series of awards recognising CounterCraft's contribution to the emerging deception technology market, the company is now making fast progress with its international expansion plan for 2018 and beyond. In recent weeks the growing team have improved their headquarters in San Sebastian, Spain with a new bespoke office space, a number of new faces and a new energy to succeed with an enterprising growth strategy.
Current activity includes increasing the headcount by 75% – strengthening the team of 20 with an additional 15 new hires. For CounterCraft, this represents a fantastic example of their success in the emerging deception technology market.

CounterCraft recruits top industry cybersec and intelligence talent
The recent move into larger office space is all part of the plan to accommodate a growing team of talent, and provides a central hub for CounterCraft's outreach offices in Madrid, London and California. CounterCraft represents one of Europe's most advanced contributions to the deception technology space; the ongoing development of its pioneering solution demands a presence in locations that are globally recognised for promoting innovation and ground-breaking solutions. Co-founders Fernando Braquehais, David Barroso and Dan Brett agree on the huge value of establishing a global operation, without losing sight of the Basque Country, european reference for R&D and IT and its unique connection to Europe and the world, and of course the company's heritage and homegrown culture.
The company is thrilled to share that six of those 15 forecast hires have already been incorporated into the CounterCraft family.
Raúl Pérez – Regional VP Enterprise Sales
Nahim Fazal – BAL Cyber ​​Threat Intelligence
Félix Gómez – Customer Success Manager
Mikel Gastesi – Senior Threat Analyst
Marta Fernández – UK Sales Account Executive
Laura Martínez – Financial Controller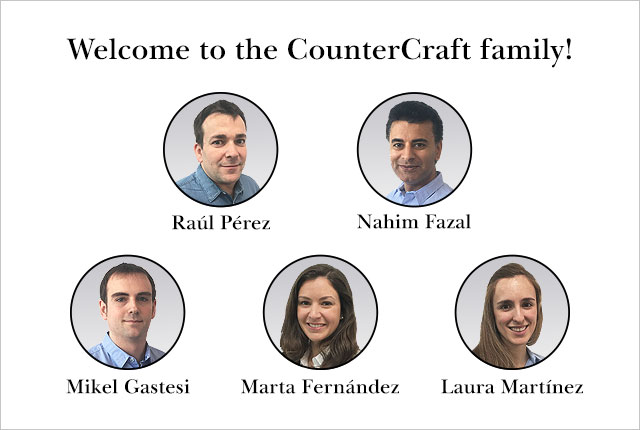 Together, they bring a wealth of cybersecurity talent, combining advanced technical expertise with experience in global organisations such as Panda Security, Blueliv, Radware, FoxIT, Gartner, IBM, Deloitte and RBS. CounterCraft anticipates that each new member of the team will immediately add value to the company's expansion efforts with profiles that span their target industries on an international scale.

Seizing opportunity in new domains
CounterCraft aims to increase investment in business development and marketing with focus on Europe, Latin America and the Middle East. In addition, the company's current objective is to strengthen and develop existing partnerships in each region. CounterCraft will invest significantly more resource into gaining visibility in the european market where there's growing demand to adopt deception technology, and this move forms part of realising the company's longer term strategy to become the go-to solution for deception campaigns across the whole of Europe.
Alongside this, CounterCraft will devote its attention towards the Emirates where there's a strong appetite for their advanced cybersecurity solution. The US will feature heavily in the plans for 2019, including establishing a commercial team on the east coast that will allow CounterCraft to stay aligned with the local market, increase its presence, and enhance the company's global positioning.
David Barroso, CEO and founder commented: "We're very happy with the recognition that our technology is receiving worldwide. This allows us to embrace ambitious objectives for 2018 – among which is our desire to invest in talented professionals selected for their sector-specific profiles. This is where we see the potential to significantly enhance our own expertise and establish our place in the global deception technology marketplace, while innovating at the necessary pace to strengthen the level of cyber security we provide for existing and future customers."