We sit down to talk about the CounterCraft vision: the mission, the approach and the values that drive our business forward day to day and year to year. The vision that originated in a hotel room in northern Spain with our three founders David, Dan and Fernando is still the vision that guides the company today—world-class deception for relevant and timely threat intelligence.

Our Mission
CounterCraft's mission is to be a pioneering provider of cyber deception and real time threat intelligence that detects targeted attacks. We have built a platform that is capable of creating the most powerful deception environments, with the ability to customize and scale to serve the world's most demanding and complex organizations.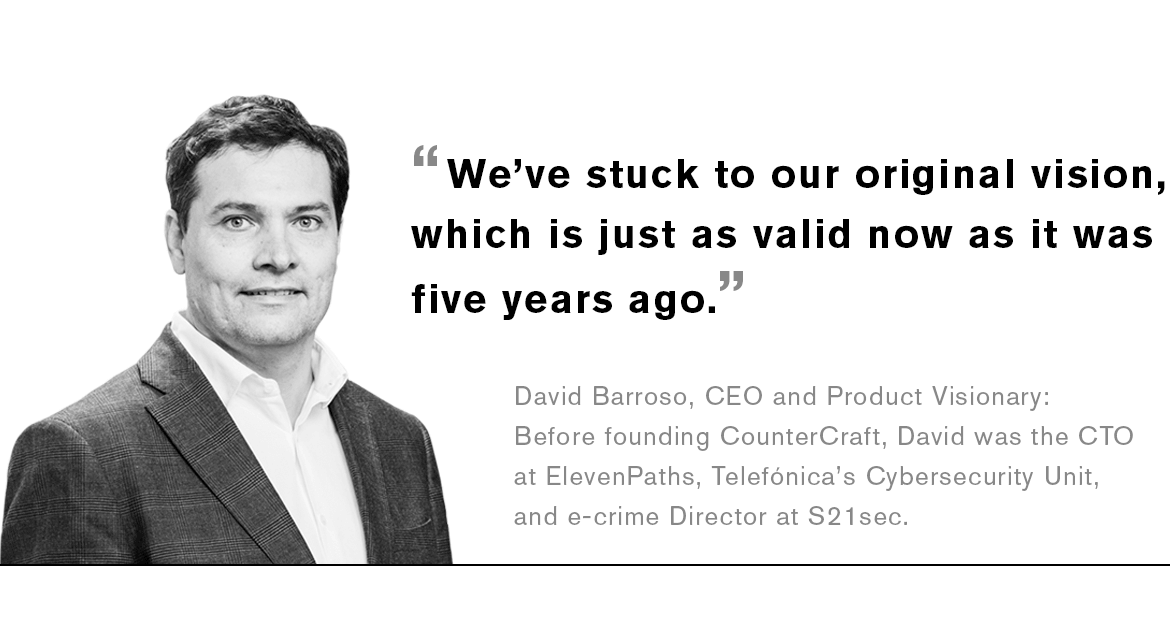 Our Mission – The Roots
David and Fernando studied high school in Madrid, and kept in touch throughout their adult lives. Over one of their sporadic dinners in Madrid, David told Fernando he should consider joining him at S21sec —Spain's largest cybersecurity player, in the early 2000s— where David had founded the department of e-crime and they ended up working together. At that time, most ecrime took the shape of phishing and trojans. Around 2008, Dan joined S21sec to help with the globalization of the business. David and Dan traveled extensively together, talking with banks and businesses.
They saw consistently that the tools out there to fight ecrime just weren't good enough. Antiviruses were old. There was good technology, but even so, there always seemed to be a problem, and the attacks only continued to rise.
David moved to Telefonica, to launch 11Paths working with Informatica 64's Chema Alonso. At the cybersecurity business, he learned alongside Chema how to launch something from the ground up. Then, over another dinner with Fernando in Madrid, David told him about a cool idea he had to make a deception-based cybersecurity business, whose focus wouldn't be on the traditional defense but on the idea of putting out traps for people to stop them before they attacked.
For the first months of 2015, they began to develop the idea and also asked Dan to join them. They huddled around a table at that fateful hotel meeting in Zaragoza to debate its viability, and decided the business would work. They made the decisions to leave their jobs and constituted CounterCraft in fall 2015.

Our Approach
CounterCraft deploys deception-based campaigns and offers deep monitoring and complex response actions. Our platform helps clients design, deploy, monitor and maintain cyber deception campaigns, giving them the ability to shape adversarial behavior and generate threat intel.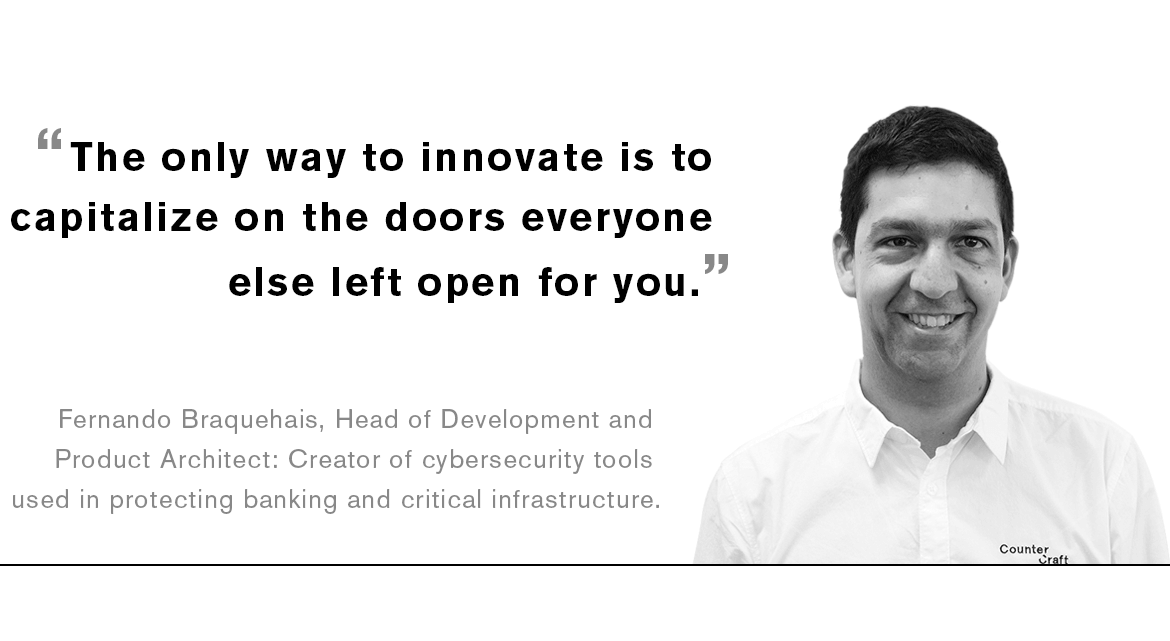 Our Approach – The Differentiating Factor
The creation of CounterCraft coincided with an increase in cyber attacks. The goal was to create a new market for cyber threat intelligence, differentiated from a saturated market of security solutions focused on networking or securing organizations purely from a 'protect the perimeter' point of view.
The way CounterCraft achieved that has been in part by studying the problem and the solution needed. At that time CounterCraft was founded, only big businesses like Amazon, Google or Facebook were using deception techniques, doing it all by hand and implementing it themselves from scratch.
CounterCraft created a broad and advanced set of features that allows effective campaigns to be created and deployed automatically. On the CounterCraft platform it's possible to manage and monitor incidents in real time, and even to integrate and customize on third-party apps.

Our Values
CounterCraft's values can be summed up by the four C's: Clever, Charismatic, Creative and Clear. These four pillars guide how our platform works as well as how we communicate.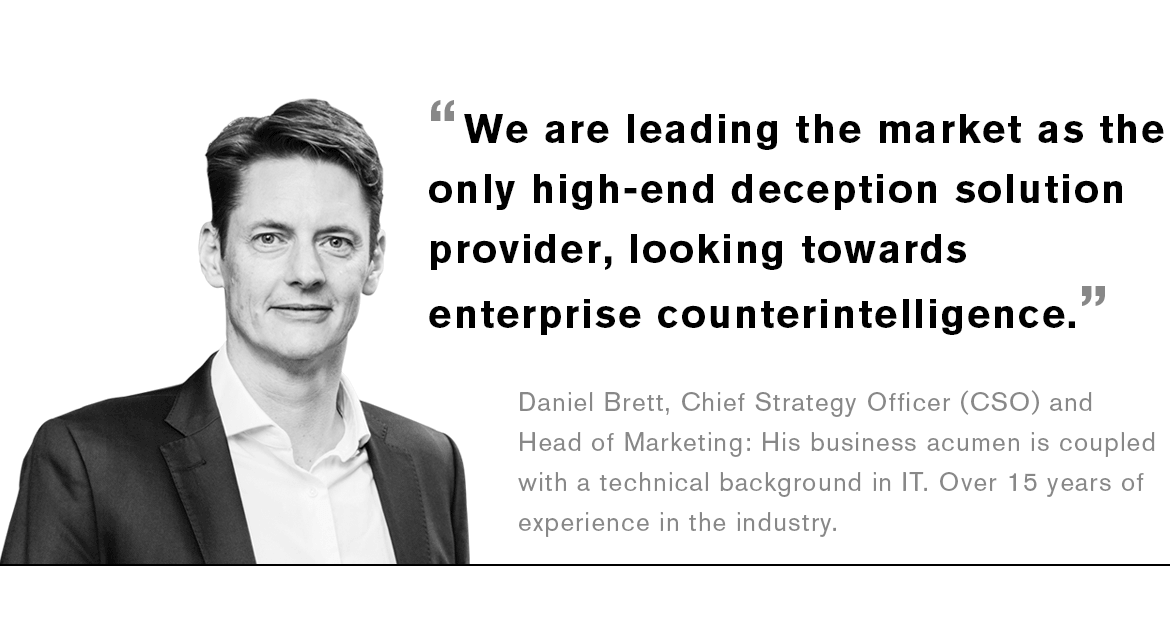 Our Values – Putting the Craft in CounterCraft
CounterCraft is a business run by the drive of expert people, with experience, vision, and infinite knowledge. Our staff embodies the values we built CounterCraft from, and they are at their best when forging new paths in cybersecurity, adapting to challenges, and changing the perspective of security. We are disruptive, creative, with a spirit built into our DNA that makes us different—security fueled by ideas, imagination, intuition and curiosity.
We make it a point to operate from a place of clarity. Everyone from our sales team to our engineers is clear, transparent, sincere and simple. We work together to speak a new language in cybersecurity, crafting pioneering technology that actually performs. Above all, our technology embodies these values. It's clever—featuring groundbreaking tech that makes it the top choice for the world's most advanced organizations. It's creative—we never settle for the status quo, instead questioning everything in order to innovate better. It's clear—ease of use is a major focus for our Cyber Deception Platform. And we're charismatic—we bring our excitement and positive personality to the table with every client.
Cybersecurity is a really important enabler for securing the platform behind digital growth. It is fundamental to the success of any business transformation program and spans every sector. Because the cyber landscape is global, suddenly you're exposed to all kinds of different risks, including nation-state level adversaries. Digital enablement is a powerful thing, connecting every small corner of the world, but of course, it comes with additional risks that need to be mitigated. That is what we do at CounterCraft, and we do it with our own unique style.