New developments are fundamentally what keep people engaged in any story, and ours is no different. Not only does the CounterCraft team work tirelessly to keep up with evidence of new developments in cybercriminal operations, we're also devoted to delivering against our global commercial strategy to become the go-to deception tech solution for enterprise. And like designing a client-specific deception campaign, diversifying our efforts and developing a multi-layered proposition sets us up to achieve that objective.
New product releases, global recognition and international expansion – launching our partner program was the natural next step for CounterCraft as we move into the second half of 2018. The CounterCraft Partner Program is an opportunity for Managed Security Service Providers (MSSPs), service providers and consultancies to offer enhanced protection to end customers with profitable new security services. It's also a chance to gain real advantage with an award-winning solution in a market that demands advanced threat detection and remediation technology.

Differentiated deception-based security services
Partner programs are nothing new, so we focused on what differentiates CounterCraft and how CounterCraft differentiates our partners. Deception-based security services represent an emerging market within cybersecurity – so now is the time for MSSPs, service providers and consultancies to expand their deception and counterintelligence capabilities and adopt our internationally recognised solution.
The comprehensive and customisable Cyber Deception Platform delivers advanced capabilities in the areas of cyber deception and counterintelligence, threat detection and threat hunting, threat intelligence, ATPs detection, and TTP & attack telemetry. With our Business Partner Program and our platform, we enable our partners to create and launch new security services for detecting, investigating and stopping targeted attacks against your customers.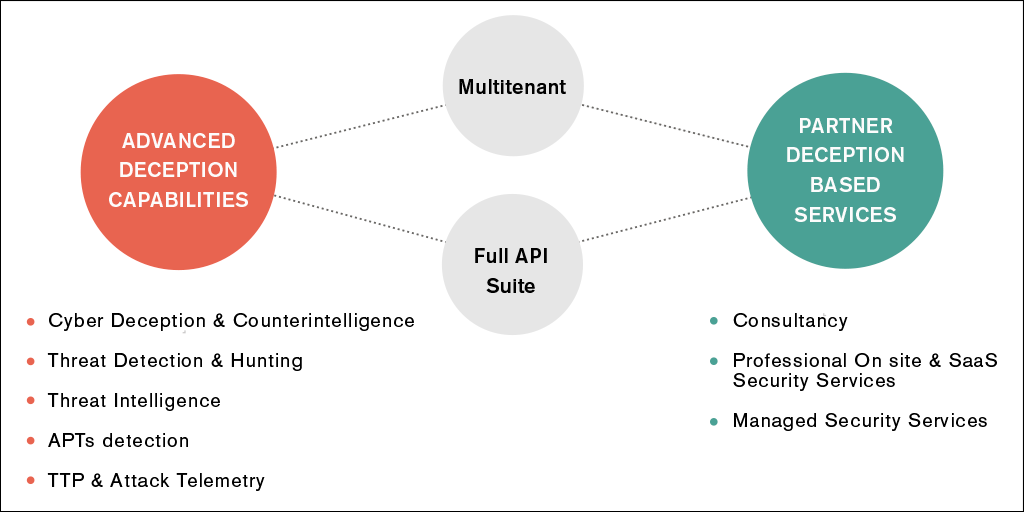 Creating revenue-generating services
The CounterCraft platform is so widely recognized because it delivers accurate, actionable intelligence for early-stage threat detection and investigations into advanced attacks through one centralised console. These powerful analytics provide invaluable insight into adversaries' behaviour and enable MSSPs to significantly improve the efficiency of their operation; from identifying weaknesses and boosting incident response capabilities, to preventing future attacks.
For consultancies and professional services providers, we offer our creative insight and practical knowledge in designing and deploying intelligent and automated deception campaigns. At C-level, this better use of time and resource equates to a reduction in the overall cost of an organisation's security function – and that's what everyone wants to hear.

Become a CounterCraft Partner
Designing tailored solutions is a core element of our business as well as our mission to contribute groundbreaking innovation to the cybersecurity community, and we considered this carefully when designing our partner program and the services you can provide. We've incorporated three tiers – bronze, silver and gold – giving partners flexible licensing options and varying levels of autonomy in how they choose to engage with CounterCraft.
The CounterCraft Business Partner Program provides:
---
Access to an award-winning cyber deception platform
Assistance from cyber deception and professional security services
Pre-sales training
Official technical training and certification
Requirement gathering and diagnosis workshops
Deployment guidance for standard and bespoke environments
APIs and standards-based data sharing
Flexible licensing
---
For more details about how CounterCraft can enhance security services portfolios you can download our CounterCraft Business Partner Program datasheet and contact us directly to take the next steps to become our partner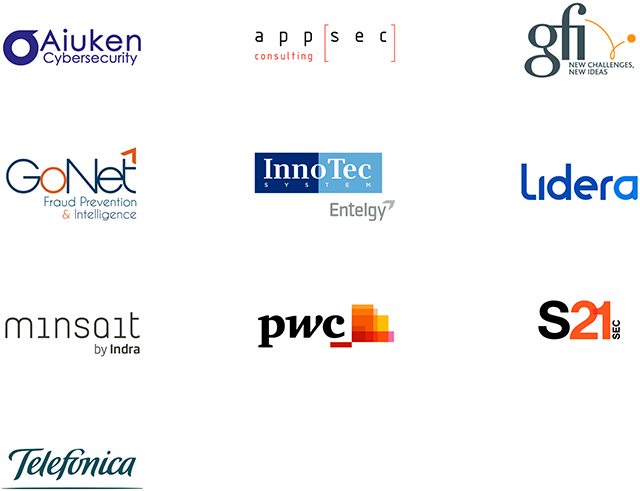 Leading cybersecurity firms including Aiuken Cybersecurity, Appsec Consuting, GFI, GoNet FPI, InnoTec, Lidera, Minsait Indra, PWC, S21sec or Telefónica are benefiting of our Business Partner Program. Become the next partner and get started within the state-of-the-art deception service offering.